Three iPhone and Android Apps That Make Managing Your Mortgage Payments Quick and Easy
Your mortgage payment may be among the largest payments you make every month. While certainly an important part of your budget, this payment is also critical to helping you build equity in your home because it attributes to mortgage principal reduction. Managing your mortgage payments can be challenging, but there are some incredible apps available for use with Android or iPhone smartphones that can simplify your mortgage management tasks.

Mortgage Mentor

This app is available for both iPhones and Android devices, and is designed to be compatible with all types of mortgages. It can calculate PMI for adjustable rate and variable rate mortgages, and it can help you to determine the true cost of a mortgage. Through the use of this intelligent app, you can track your account information in real-time, or you can manipulate the numbers to help you to make more thoughtful and intelligent decisions about your finances.  This app is rated 4.5 stars and cost 1.99 in the app store.  It has Great reviews, check them out. 

Smart Loan Calculator Pro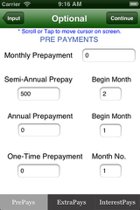 This app is only currently available on iOS devices, but those with this operating system may want to download it today. It is compatible with Iphone, ipad and ipod touch.  It has some of the same capabilities as Mortgage Mentor, but it goes a step above and beyond by providing you with mortgage payment notification reminders. It also has a unique feature that allows you to set a final payoff date for your mortgage, and it will calculate how much money you need to pay per month toward your mortgage to accomplish this goal.  This app is rated full 5 starts, excellent rating and cost 2.99 in the app store.

Bill Payment Log

The Bill Payment Log app is a unique program that can entirely replace the outdated manual entry checkbook balancing task. It is suitable for use with iOS, Android and even Windows. You can use it to monitor and track payments for all credit accounts, including mortgages. While it does not have the analytical tools associated with some of the other mortgage apps, those who are looking for an all-in-one app that facilitates bill payment tasks for all accounts, this may be a great option to consider.

Making your mortgage payments on time is important, but you also may need to know if you need to pay extra each month and what the effects of that will be. You may also be concerned about "what if" scenarios for your adjustable rate mortgage. There are numerous apps available on the market today, choose one that best fits your needs and makes your life a little easier. 
Message from Karen:
 If you are thinking of selling, call me for a FREE home evaluation in your neighborhood, from staging, pricing, housing values, interest rates, how appraisers are valuing properties, now that the guidelines have changed. I would love to sit down and talk with you. Just call me and let me know how I can help with your real estate needs, buying or selling.  I give exclusive representation.  If you are not sure whether you want to sell for fear of not finding that perfect larger home, click on the Search All Area Listings properties below and start searching the areas and see what is out there. I do have a list of contractors whether you decide to remodel or purchase. I can supply you with a list of contractors. If you were curious or wondering what your home is worth click on "What is my home worth?" and this will give you a range of value for your property. Thank you for following me and would love to be your go to person, for all your Real Estate needs. 
This Blog was written by:
Notary, ABR, AHWD, CRS, e-Pro, GRI, SFR
(502-643-2255) Cell
soldbyk@gmail.com  Email
 Soldbyk.com   Website