You're Not Just Selling a House: How to Promote the Local Community and Lifestyle to Potential Buyers
 Have you listed your home up for sale? If so, you've likely spent a lot of time crafting your listing and highlighting the many features of your home and property – but have you focused on the community around your home as well? Let's take a look at a few ways that you can promote the qualities of your local neighborhood as you're working to convince a buyer that purchasing your home is a great decision.

Give Your Buyers The A Tour Of The Neighborhood
                         After your listing goes live it won't be long before potential buyers and their agents are calling to set up viewings so they can see what your home looks like in person. When a buyer tours your home, offer to spend a few minutes giving them a quick tour of the local community as well. Have a quick route determined beforehand which takes you past schools, medical facilities and other amenities that will help to reinforce that your area is a great one to live in.
Highlight Local Community Centers And Parks
 Do you have a community center, fitness center or large park nearby? If so you'll definitely want to ensure that your buyer knows about these – especially if you're selling your home to a family with children. Modern buyers are very appreciative of green space and local cultural amenities as in many areas they're becoming a bit harder to find. Point out just how close those local running trails are or how the recreation center is just a short jog away.
 Have A List Of Local Restaurants And Shops Handy
        

Whether you live in the suburbs or the downtown core of your city, it's likely that you have a number of restaurants, cafés and shops nearby. Consider making a quick list of these, highlighting any favorites or popular spots that are well-known to everyone who lives in the area. Virtually everyone likes to dine out on occasion, and many buyers will prefer to live in a community that has what they need within a short drive.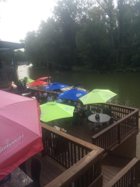 If you're unsure of what community features you should be telling potential buyers about, be sure to ask your real estate agent or if you don't have one, call me, us Realtors have been though the selling process continually  and know what the Buyer 's questions will be.  If your home is currently for sale and you have had enough of the selling process, just give me a call and I would love to sit down and go through the market evaluation, selling process and detailed marketing process,  so you can get your home sold quickly and for what the market is bearing. In todays market you not only are selling the house, your are selling the community, conveniences, schools the lifestyle.
    Thinking of Buying or Selling? Call me, Karen and put my 30 years experience to work for you and ask me how my marketing niche works.  I think outside the box to get your home sold.
 For more information about real estate in the Louisville, Jefferson, Oldham, Shelby, Spencer, Bullitt county areas,  contact me, Karen Rodriguez, at 502-643-2255 or email soldbyk@gmail.com. Years of Experience, Experience the Difference, in fact, 30 years difference.
Are you thinking of Buying?  Want a place to search current active homes, on the market for sale, visit, www.soldbyk.com which is tied to the local MLS service the Agents use to search homes for their buyers. You can search ALL current properties for sale,  save your favorites, even set up to email yourself new listings in the areas you are interested in or price reduction of your favorite home you are watching.  My website is directly linked to the MLS to show current and Hot New Listings.
  Go to:  WWW.SOLDBYK.COM  to search ALL Greater Louisville Properties for sale including Southern Indiana and all counties.
  If you are thinking of selling, call me for a FREE home evaluation in your neighborhood, from staging, pricing, housing values, interest rates, how appraisers are valuing properties, now that the guidelines have changed. I would love to sit down and talk with you. Just call me and let me know how I can help with your real estate needs.  Thanks!!! Karen